Hi friends!
I hope Spring has sprung where you are. It was LOVELY here in Cincinnati yesterday, and it felt SO GOOD.  I survived five winters in Chicago, but I have to admit, this winter here kicked my butt. Man, am I happy it's over.
It's time to move this Craigslist hunt farther South, and visit a city in North Carolina. One of my favorite people used to live there (hey Sis!) and a very good friend/client still does (hey Liz!) and per her request, I combed CL in RDU. So here we go!
1. It's time to start thinking about that garden, people, if you haven't already. And I think this industrial work stand would be the perfect little potting bench!
Pick it up for $75 (Actually, I'd start with an offer of $50) You could glue a cork board to the back, pin up your seed packets, etc. Or, you could line the back with pegboard. Then stack your pots below. I'm thinking a mini version of this, done by miss Robin from Robin's Nesting Place.
Can we all just take a minute and drool over her potting bench?!
And, she's a girl after my own heart.  This whole setup was done with thrift in mind.
Well done, Robin!  I want to go plant something, and maybe wear some adorable Hunter boots while I do it, right this minute.  😉
2. Sometimes Craigslist is an oyster with a real pearl inside. Like this vintage wood office chair, listed for a mere $10.  
They turn up on Etsy frequently, for way more than $10.  This one is $175 PLUS $65 shipping. Wha??!
Like I said, RUN, don't walk!
3. In my last Craigslist post, I learned about Barley Twist furniture, the kind that has beautiful turned legs and spindles. But that beauty does not usually come cheap. That's why I picked this Barley Twist coffee table this week.  
It is a stunner!
I think it's gorgeous just the way it is. Asking price is $85.
4. You may be one of those people who says a Federal mirror like this one just isn't your taste.
And I think that's precisely why you should buy it, if you are trying to up the style of your current living space. The longer I blog about home decor, and the more I immerse myself in all things interior design, the more I've come to learn that in 2014, curating a room, and a home, that is interesting, unique, and timeless is really about mixing it up. It's the push of old and new, bright and neutral, sleek and ornate. 
You may say you have a "French Country" look right now.  Or a clean, contemporary look.  But I really believe that sticking to only one genre of decor is the fastest way to date yourself, and your room, and honestly, I bet you'll get bored with it faster than if you mix in some pieces that on the surface, don't "go together."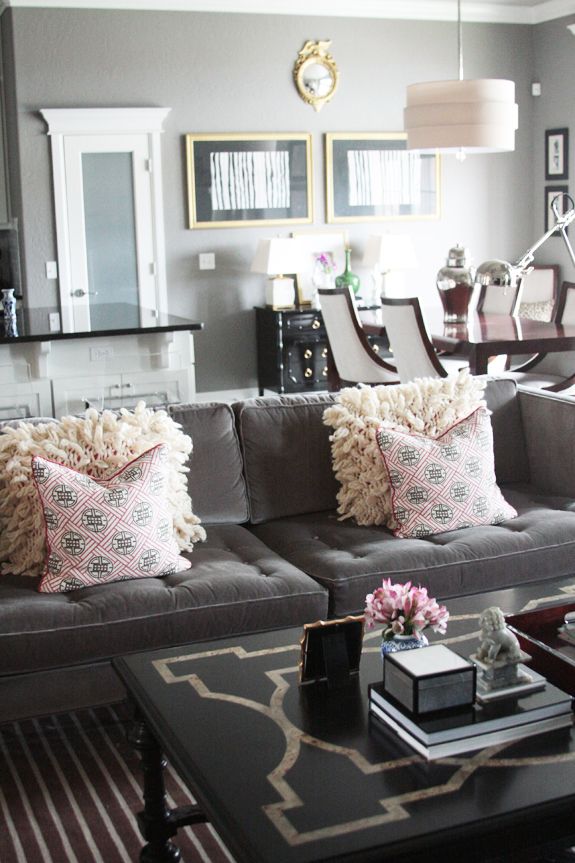 Your home is not a movie set.  It doesn't have to represent one particular moment in time.  If you keep things fresh with pieces that A.) Speak to you and B.) push the boundaries a bit on time periods and motifs, what you will end up with is a mix that is ALL YOU.  It says, "I collect things I love," and not "I bought all of page 24 of the Pottery Barn Spring 2014 catalog."
Designer Alexa Hampton was recently quoted in House Beautiful and she made this point perfectly.  She said in a time where most every piece of furniture, and yard of fabric, is available to most everyone, customizing your home to YOU is the ultimate luxury. 

So if you look at a mirror like this and love it, but think it's wrong for your current space, buy it anyway.
PS – I'd check the mirror once you go see it.  It may be a reproduction piece, not a true antique, and if so you can offer less than $30 for it.
5. Last, is a great old kitchen scale.  
These are the types of things I love to pick up at thrift stores, yard sales, etc.  And I don't think the price is bad, either. They're asking $25. It'll become a cool conversation piece. Love it!
Thanks for joining me this week.
My blog has moved from Blogspot, and if you like these posts, I'd simply LOVE to have you as a subscriber here at annethompsondesigns.com! Mwah!
XO,
Anne